NOTE: SPARKLE CAPS IS BEING RETIRED AFTER ALMOST NINE YEARS!
WHEN YOU SCROLL PAST THE SUPPLIES NEEDED LIST, YOU WILL
SEE EXAMPLES OF SUPPLIES DONATED TO SPARKLE CAPS.
SUPPLIES NEEDED for the SPARKLE CAPS GIFT BAGS
1. Seasonal and Christmas gift bags – 10" x 12" or 12" x10"
2. No. 10 (legal) white envelopes, self-sealing - we're well stocked on this item right now
3. No. 6 ¾ (regular) white envelopes - well stocked

4. Tissue paper – all colors, including white - well stocked

5. Curling ribbon – any color - well stocked

6. Crossword and Word-Finds puzzle books – large print

7. Pretty colored Pencils (not #2 school type) and colored Pens with different ink colors
8. Glue sticks - well stocked
9. Stickers – angels and comical frogs
10. Stickers – seasonal and holiday
11. Soft-knit or crocheted caps / hats - for warmer and colder weather - well stocked
12. Paperback and hardback novels - in very good or like-new condition (for a getaway while in the chemo
chair or waiting for tests and doctors' appointments)

13. Lemon drops (individually wrapped), gum (no aspertaine), Tic Tacs (mouth mints)
14. Soft socks
15. Stuffers for our mini goody bags – small packs of tissue, lip balm, nail files, hand lotions and hand
sanitizers
16. Monetary donations are always appreciated.
November 4, 2015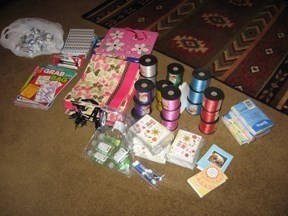 Donations from Renee Cookson Nicholson
August 22, 2015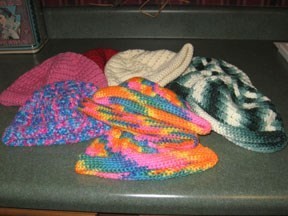 FIRST-TIME DONATION of beautiful knit caps from Kira. She is a busy young mom and worked these caps into her "free" time. In less than a few days, 8 of her 10 caps have gone into Sparkle Caps gift bags. Five of those are in the mail to women going through cancer treatment in West Virginia, where those bare heads will be beautiful and warm this fall and winter. THANK YOU, Kira!
August 5, 2015
Marlyn Roan at Love Caps for Cancer crocheted another gorgeous dozen caps for our gift bags--12 more women dealing with bald heads because of chemo will have head toppers of warmth and beauty. Thank you, Maryln, who does these out of love with no monetary gain, but I do know she is truly blessed. Although she would probably not want the attention called to herself, I like to thank those who help keep our Sparkle Caps gift bags wonderful and full of blessings.

May 30, 2015
DONATIONS RECEIVED: Renee Cookson Nicholson contacted Sparkle Caps on March 24th, stating "... I would like to get some items gathered from friends and my ladies to help your project." She learned about Sparkle Caps through two of her friends, who had received Sparkle Caps gift bags in May and July 2014. In early May, I picked up a big box of goodies from our mutual friend. I have no words to describe the personal items in the box. As the saying goes, pictures are worth a 1,000 words, so I am attaching an album. Please take a minute to check them out.

1) Courtney Dean's Artwork; 2) Wow! The table is filled up with all kinds of goodies for the Sparkle Caps gift bags; 3) Samples of some of the artwork provided to Sparkle Caps by Courtney Dean Art, one of which goes into each gift bag; 4) Bookmarks and note cards; 5) Cards by Renee; 6) Gift bags decorated by some of the church's children; 7) Isn't this beautiful! From the ladies of Mon-Aetna Baptist Church "Bloomers" group; 8) Even Sparkle notebooks.
September 3, 2014
THANK YOU to AMANDA and LINDA for these material donations! WOW and thank you so much! These donations help make a Sparkle Caps' dollar go further, allowing us to do more.

1) This is one of two containers to which I transferred approximately 175 romance paperbacks donated by Amanda Komanetz; 2) Five crocheted caps from Amanda; 3) Some items for children, a puzzle book and pencils from Amanda; 4) Gift bags, loads of tissue and curling ribbon received from Amanda; 5) Three books from my neighbor Linda McCombs.
August 6, 2014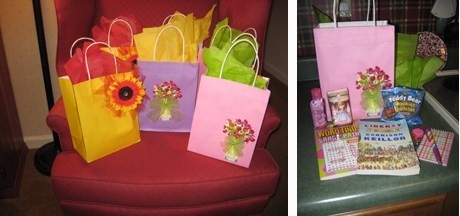 Teresa Crawford and Jasmine Frazier made these six gift bags for Sparkle Caps recipients and added the adorable gift bag embellishments. They went shopping with our "Additional Needs" list and put the following items in each gift bag. I got a kick out of the Teddy Bear Cookies Galletas they added. I will add some of our other items to each gift bag, and these will be the next six bags that go out.
We so appreciate the efforts of others to help Sparkle Caps and the women we uplift and empower through our gift bags. THANK YOU Teresa and Jasmine.
August 2, 2014
THANK YOU to Stacy Barton and Tori Stewart and friends for these donations of books. We have 39 good books from Stacy and 99 from Tori and friends. Donations help make a Sparkle Caps' dollar go further and allows us to do more.

THANK YOU! So appreciated.

May 6, 2014

I was one of two guest speakers at The Ladies Praise Conference at Lakewood Baptist Church, Sumter, SC. In addition to financial donations, we were presented with several bags of supplies. I was blown away with the generosity of this congregation.

April 2014

THANK YOU to Nancy for more angels (we are keeping her busy); Angela and Jennifer for more beautifully handcrafted notecards; Kayla, Hope and Kathy for more crafted goodies (they did the loom bracelets last month); and 68 lip balms of 4 types from Blistex. We appreciate so much all the donations that keep our Sparkle Caps bags of blessings so special for our recipients.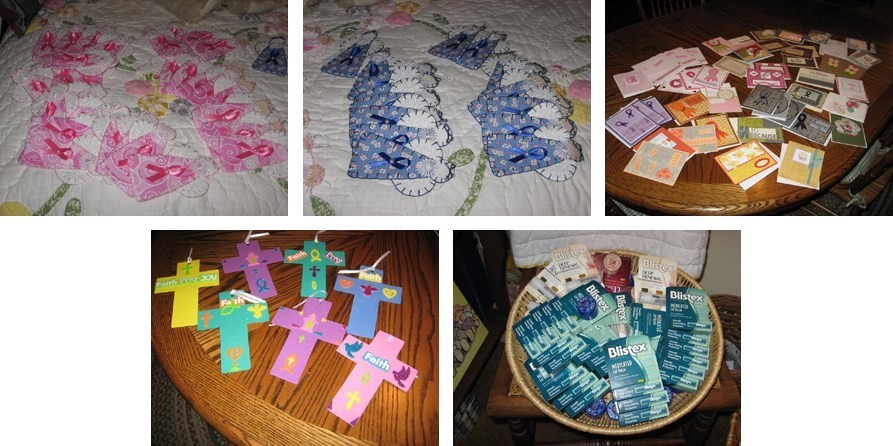 Photo Captions (Top Row): 1) Nancy's angels made with love - breast cancer. 2) Nancy's angels made with love - colon cancer. 3) Our big table is covered in handcrafted notecards from Angela and Jennifer.
Photo Captions (Bottom Row): 1) Kayla and Hope's mom Kathy said this was a rainy-day project, and they happily donated some of their craft items for our gift bags. We have Kayla and Hope and Becky's crew (doing blessing tags for caps and bag tags) working to help us with our gift bags. HOW SPECIAL IS THAT!!! 2) Picture of Blistex items in basket.
April 25,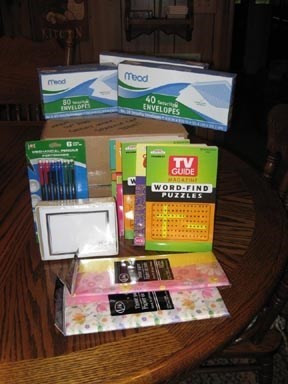 2013

I received this box of goodies Tues. from a Sparkle Caps fan in MI. Just made my day! On the outside of the box she has written "KEEP UP THE GREAT WORK SPARKLE CAP TEAM!" Everything is just perfect! Thank you, Tracy!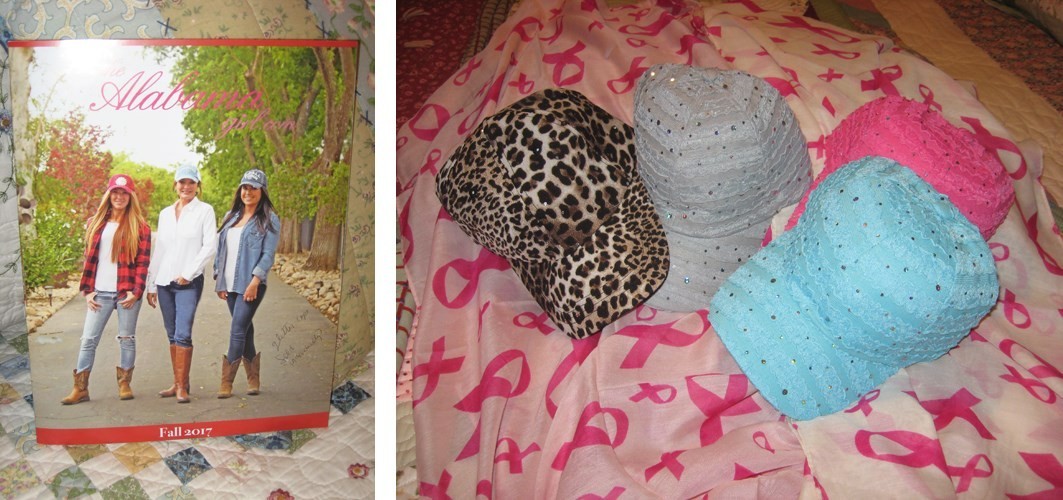 August 2017

Sparkle Caps has been blessed to receive two more donations of material goods from our sparkle caps provider Alabama Girl.
Last Dec., we received a variety of 251 breast cancer scarves, which have been going into the gift bags of women with breast cancer as an extra gift.
June 2017
Our second donation arrived a couple of weeks ago. We received 51 ribbon sparkle caps and 31 leopard caps. The ribbon caps are a smaller part of our sparkle cap collection, but the leopard caps are new and these are going into gift bags as an extra gift.These materials donations allow us to add special gifts to our Sparkle Caps bags.

A BIG THANKS to Alabama Girl!

August 27, 2017
A second donation of goodies for our Sparkle Caps gift bags from Tracy Kapenga from MI, which was just as thoughtful as the first box she sent in April 2013. Once a Sparkle Caps fan, always a Sparkle Caps fan! She noted in a comment on our Facebook post: "Thank you for providing a perfect avenue for us to honor our mom's memory! Blessings to you in all your efforts!"
Note from the picture, even the pencils were special-- the wording on the packaging says "Xtra Sparkle."
Thank you so much, Tracy. You again made my day.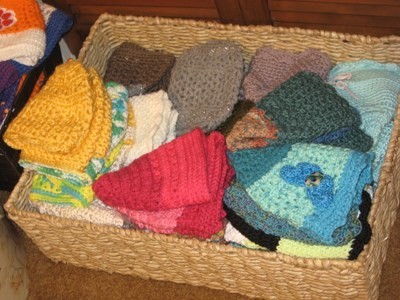 May 2017
Rita Creel joined the Sparkle Caps team months ago. She has been crocheting beautiful caps for us. Together with the caps crocketed by Kira (see August 2015), we have a good inventory of caps for all our gift bag recipients, the first time in six plus years of this outreach. We are so thankful for their donations.
November 2016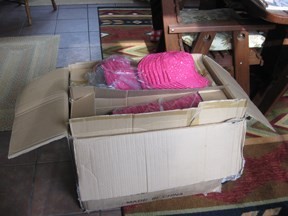 DONATED CAPS from Alabama Girl, our sparkle caps supplier - 137 cadet caps started going out in the Christmas gift bags for all recipients, in addition to the usual Sparkle Caps and some knit caps. THANK YOU so much!!! This is the third donation of caps from this wonderful all-female company out of CA.
October 2017
We received another box of special gifts for our bags from an upstate supporter of Sparkle Caps—Renee Nicholson. She has blessed our project multiple times with wonderful boxes of surprises.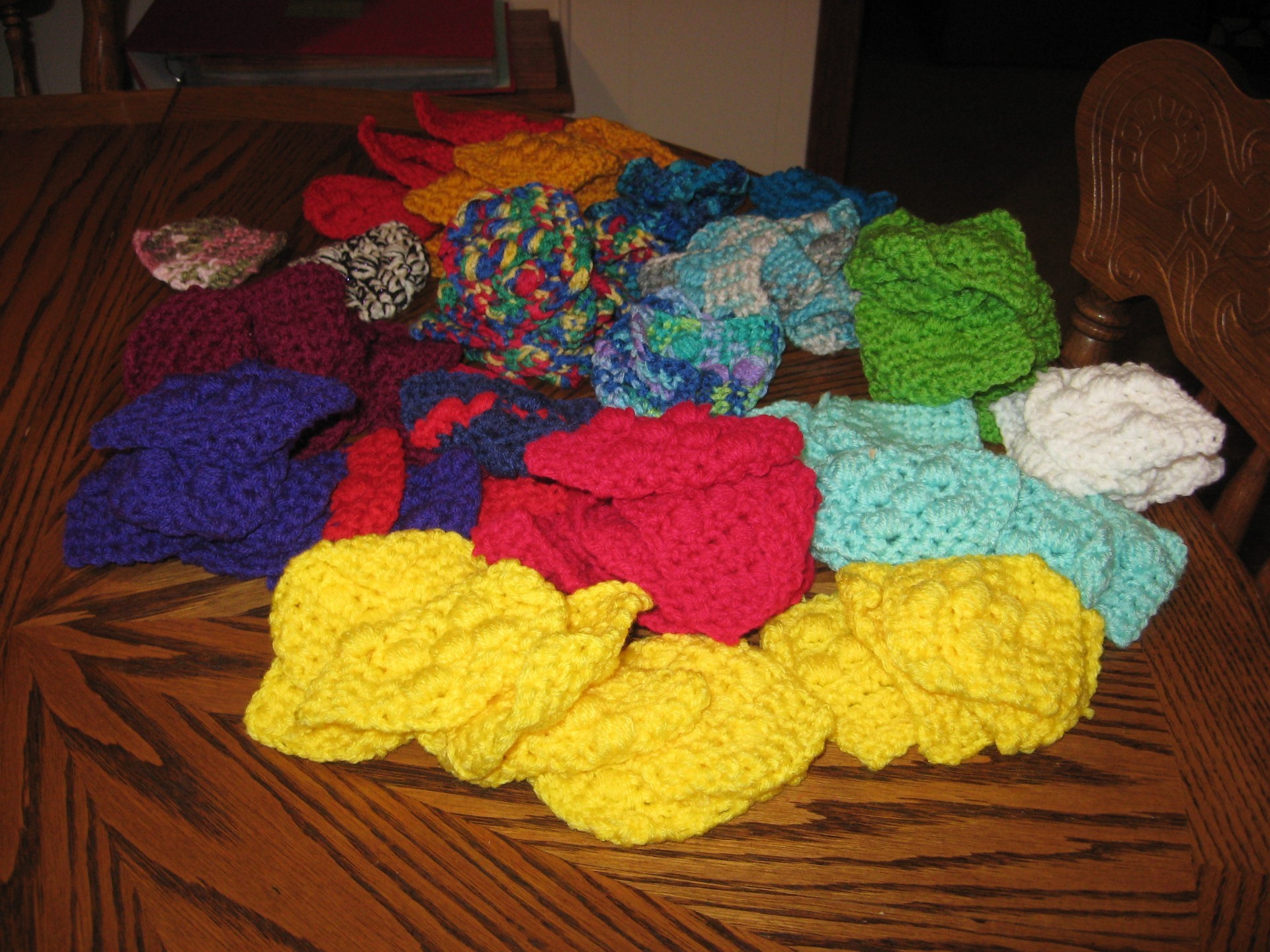 June 2018
70 prayer squares from Lorena Pate
According to the comments on our Facebook page, these were a big hit.
June 2018
I was thinking about Angela earlier in the week. Out of the blue, she called me yesterday, asking if I would be home this afternoon (6/8). She and Jennifer arrived with goodies in their arms and they left with a Sparkle Caps gift bag for a friend.
I was (and am) flabbergasted with the thoughtfulness as I pulled each item from the bags and boxes.

Thank you Angela and Jennifer for your support to The Sparkle Caps Project and the women who will be uplifted and empowered through our bags of blessings. Angela and Jennifer just made quite a few gift bags even more special!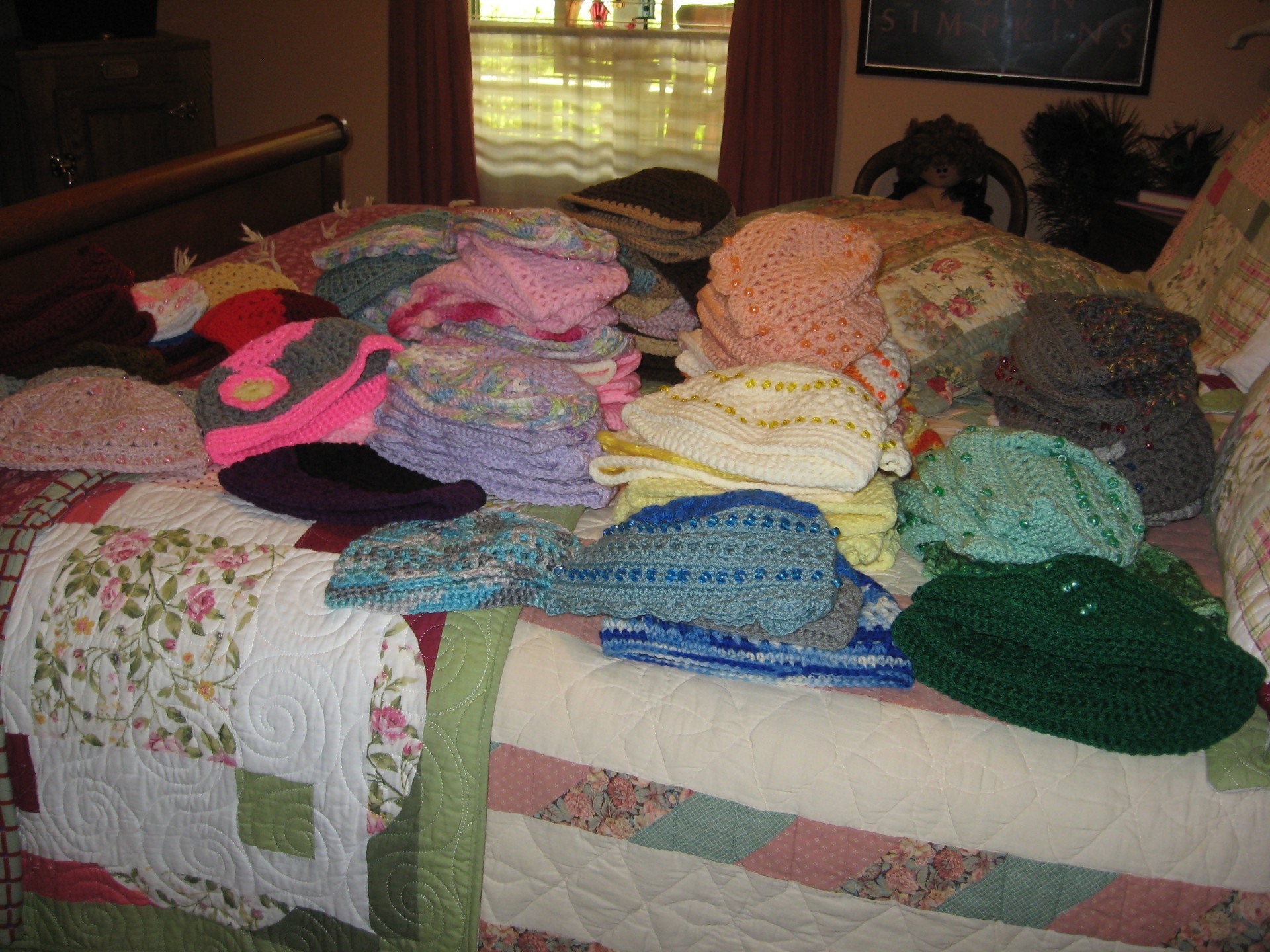 May 2018
With the heavy outgo of gift bags since the end of Jan., our large inventory of knitted / crocheted caps had shrunk considerably. We had less than a month's worth of caps remaining earlier this week, when Rita Creel stepped up to the plate and delivered two big bags of her knit caps to us. There are 105 caps. Unbelievable. Even more unbelievable, this BIG amount of caps will last less than two months if the referrals keep up.
Thank you Rita for your continued support of Sparkle Caps and its mission to help other women coming behind us on the cancer journey.