Sparkle Caps Project is a 501(c)(3) and a SC non-profit organization. Its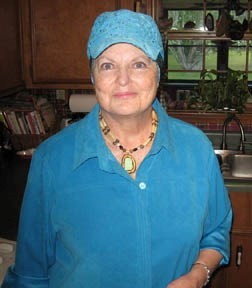 mission is to empower and uplift women in treatment for cancer by providing them with gift bags chocked full of blessings and support. Susan administers this project to the glory of God, for it is His project, under His direction and guidance.
The bags are each tailored to the known needs of the recipient. Bag contents include a HOT CHIC Sparkle Cap (16 colors available) with attached blessing tag; a knit or crocheted cap (as available); two of the following books: "The Red Sea Rules," "Heaven Is for Real," "What Cancer Cannot Do," "Angels. . ." or "Jesus Calling"; a novel, a crossword or word-finder puzzle book, a handmade angel and gift note, a mini gift bag of goodies for use while in the chemo chair (or elsewhere), i.e., a pack of tissues, lip balm, hand sanitizer, hand lotion and nail file; personal letters and stories to uplift and bless each recipient; and at times, personal letters to a particular recipient with an outstanding need. Occasionally, one book may be substituted for another or added to the gift bag, dependent upon particular circumstances. From time to time, other goodies are added to the gift bags.
This nonprofit has been and is funded through donations, sponsorships, material contributions, 2 yard sales in November 2011; Christmas 2011, 2012 and 2013 White Envelope awards from Women of Weddings in California; 2 fundraisers in 2013, 2 fundraisers in 2014, 2 fundraisers in 2015, and a fundraiser in May 2016, May 2017, and May 2018. (See Fundraisers tab for more information.) All proceeds received through sponsorships go directly to the gift bags. Personal expenses for administering the program are absorbed by Susan "Victorious" as a continual gift to Sparkle Caps.
Fast forward through February 2019. The Project has grown from that first gift bag, and now after almost 9 years, I, Susan "Victorious," and Sparkle Caps are retiring. We uplifted and empowered more than 2965 women on their unique, sometimes seemingly impossible, cancer journeys with Sparkle Caps bags of blessings, plus 118 mini caregiver gift bags and 104 mini gift bags to children—the caregivers' and children's gift bags were usually part of family gift bags and/or gift bags given to prior recipients who had metastasized, recurrent, additional or new cancers.

COMPASSION
The word "compassion" is a noun.
As a word, it just sits here on the page.
It isn't doing anything.
It just sits here and stares back at me.
It reads the letters "c-o-m-p-a-s-s-i-o-n."
Put "compassion" into action, and it becomes a verb.
It becomes and is a feeling.
It becomes and is understanding.
It lends a helping hand.
It says a prayer.
It sends a card.
It is a pat on the back or a hug around the neck.
It is a message of love and encouragement.
It is a good deed done for another.
It is a meal delivered.
It is a flower sent.
Compassion is ACTIVE. It means TO DO.
It means to feel, to love, to support, to walk with, to cheer up,
to lend a helping hand;
to take the hubby out so that he, too, can have some recuperative time.
It means laughter, laughter and then more laughter.
Compassion means reaching outside oneself to bring understanding,
hope and faith to another battling the fear of cancer;
to use one's own experiences (old or new) to reach out to others;
It's called "Pay it forward," "Forwarding it on," "Being God's light and vessel."
Compassion means living through one's own experiences with cancer,
setting aside one's own negative memories,
in order to reach out with all her wonderful qualities to help her friend.
Compassion is God, Who guides me on this journey not asked for!
It is God Who partners with me; Who walks with me; Who holds my hand;
Who carries me when my steps are tired and done for the moment;
Who grants me peace and strength (that I did not know I possessed)!
It is God Who will bless me to help others;
It is God Who will bring me to the light at the end of the tunnel and see me through it!
Portions of a poem written by
Susan "Victorious"
April 21, 2010