Sparkle Caps Project is a 501(c)(3) and a SC non-profit organization. Its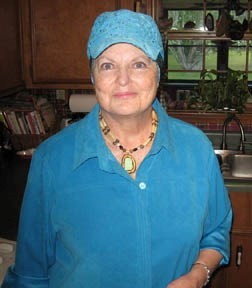 mission is to empower and uplift women in treatment for cancer by providing them with gift bags chocked full of blessings and support. Susan administers this project to the glory of God, for it is His project, under His direction and guidance.
The bags are each tailored to the known needs of the recipient. Bag contents include a HOT CHIC Sparkle Cap (16 colors available) with attached blessing tag; a knit or crocheted cap (as available); two of the following books: "The Red Sea Rules," "Heaven Is for Real," "What Cancer Cannot Do," "Angels. . ." or "Jesus Calling"; a novel, a crossword or word-finder puzzle book, a handmade angel and gift note, a mini gift bag of goodies for use while in the chemo chair (or elsewhere), i.e., a pack of tissues, lip balm, hand sanitizer, hand lotion and nail file; personal letters and stories to uplift and bless each recipient; and at times, personal letters to a particular recipient with an outstanding need. Occasionally, one book may be substituted for another or added to the gift bag, dependent upon particular circumstances. From time to time, other goodies are added to the gift bags.
This nonprofit has been and is funded through donations, sponsorships, material contributions, 2 yard sales in November 2011; Christmas 2011, 2012 and 2013 White Envelope awards from Women of Weddings in California; 2 fundraisers in 2013, 2 fundraisers in 2014, 2 fundraisers in 2015, a fundraiser for May 2016, and a fundraiser for May 2017. (See Fundraisers tab for more information.) All proceeds received through sponsorships go directly to the gift bags. Personal expenses for administering the program are absorbed by Susan "Victorious" as a continual gift to Sparkle Caps.
Fast forward through January 2018. The Project has grown from that first gift bag, and it will continue to grow as Sparkle Caps uplifts and empowers women on their unique, sometimes seemingly impossible, cancer journeys. To date, more than 2350 Sparkle Caps gift bags have been given out, plus 105 mini caregiver gift bags and 100 mini gift bags to children—the caregivers' and children's gift bags are usually part of family gift bags and/or gift bags given to prior recipients who have metastasized, recurrent, additional or new cancers.